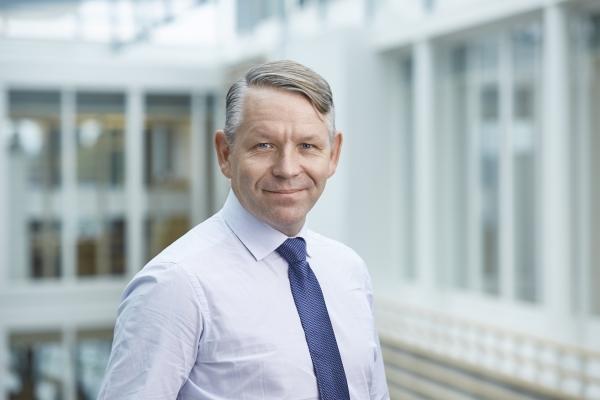 Managing Director at Visma IT & Communications AS
Oslo Area, Norway
Experience
MariaDB Foundation
Board Member
March 2015 – Present
Visma IT & Communications AS
Managing Director
September 2013 – Present
CIO Visma / Managing Director Visma IT & Communications AS
Visma
CIO
September 2013 – Present
Oslo Area, Norway
Ruter AS
CIO
October 2010 – August 2013 (2 years 11 months)
Dronningens Gate 40, Oslo
Responsible for IT Operationas, IT Development and Internal IT. Development
and operations of the electronic ticketing system on buses/trams/metro/boat in
Oslo municipality and Akershus county.
Ventelo
Department manager IT Application Operations – Deputy CIO
October 2008 – September 2010 (2 years)
Fornebu
Founded and managed the Application Operations department – responsible
for operating the Ventelo application portfolio. Deputy CIO for 10 months when
BaneTele merged with Ventelo and changed name to Ventelo AS.
BaneTele
IT Operations Manager
May 2003 – November 2008 (5 years 7 months)
Jernbanetorget/Nydalen
IT Operations Manager in BaneTele AS (changed named to Ventelo AS)
InterStrat
Owner
January 1998 – January 2008 (10 years 1 month)
Enkeltmannsforetak.
Active ISP
VP Product Management
August 1999 – March 2003 (3 years 8 months)
Participated in the early foudation of Active ISP and was part the of the
management team as VP Product Management.
Telenor Nextel
Product Group Manager
May 1998 – July 1999 (1 year 3 months)
Responsible for the web centric services in Telenor Nextel
Riksnett AS – Telia Internett AS
Project Manager
June 1996 – April 1998 (1 year 11 months)
Project manager with main responsibility for IP telephony projects
Riksnett
Sales Representative and Project Manager
April 1996 – November 1996 (8 months)
Sales Representative at first switching to Project Manager – focusing on
commercializing and rolling out Internet connections to households and small
to medium sized businesses
Handelshøyskolen BI
Research Assistant
August 1992 – July 1994 (2 years)
Research assistant at Norwegian School of Management – with main focus
on designing a prediction model do predicting tax evation in tax returns from
businesses. Financed by the Norwegian Tax Authority and NORAS.
Education
BI Norwegian Business School
Master's degree, Information Management and IT Strategy · (1994 – 1996)
BI Norwegian Business School
Bachelor's degree, Auditing · (1989 – 1992)