Server Fest Presenter List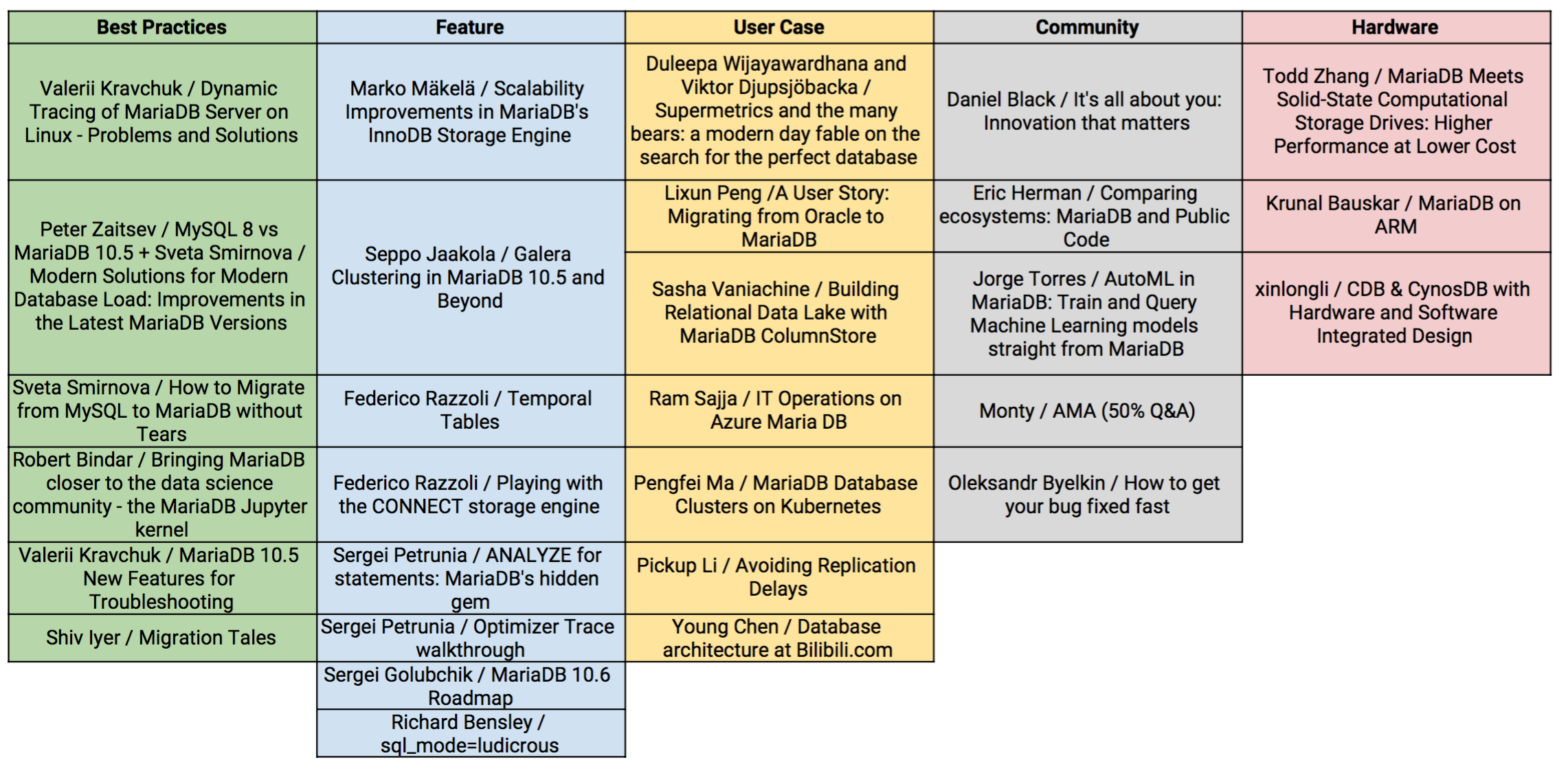 The MariaDB Server Fest next month has approved quite a number of exciting presentations. The presenters are now busy filming their presentations, which will be aired three times – Monday to Wednesday 14-16 September 2020 in the Paris timezone (for EMEA), Tuesday to Thursday 15-17 September 2020 in the New York timezone (for the Americas), and Friday to Sunday 18-20 September 2020 in the Beijing timezone (for APAC).
Interactivity through cloning
Through logic (not magic), we have cloned the presenters. As the presentation is aired in the form of video, slides and voice, the presenter is fully concentrating on following what you, the attendee, ask in the chat room. The identical twin of the presenter won't lose the train of thinking, as the twin is canned. So the cloned presenter can answer questions, add colour, and give attention to you – the attendee. If this works out as we hope, it will be more interactive than a face-to-face presentation!
The approved presentations
The presentations come in five different categories:
Best Practices (in green): How To presentations; how to migrate, how to debug, how to choose the right database.
Features (in blue): Functionality and technology. InnoDB, Galera, MariaDB 10.6 Roadmap.
User Cases (in yellow): Experíences by your fellow users of MariaDB. So you don't need to repeat their mistakes.
Community (in grey): The ecosystem of MariaDB Server. Working with contributors.
Hardware (in red): Boosting MariaDB in various hardware setups.
Over the remaining few days until the conference, we will share more about the individual presentations.
The schedule
The days start at 11:00 for Paris, and 12:00 noon for New York, and 14:00 for Beijing – all times in the respective local time zones. Each day is five hours long, ending at 16:00 in Paris, 5pm / 17:00 in New York, and 19:00 in Beijing.
The exact per-presentation schedule will be published later, and will differ slightly between the three timezones.
Registration
Do remember to register! https://mariadb.org/fest-registration/