MariaDB Server Fest CfP extended until Wed 15 July 2020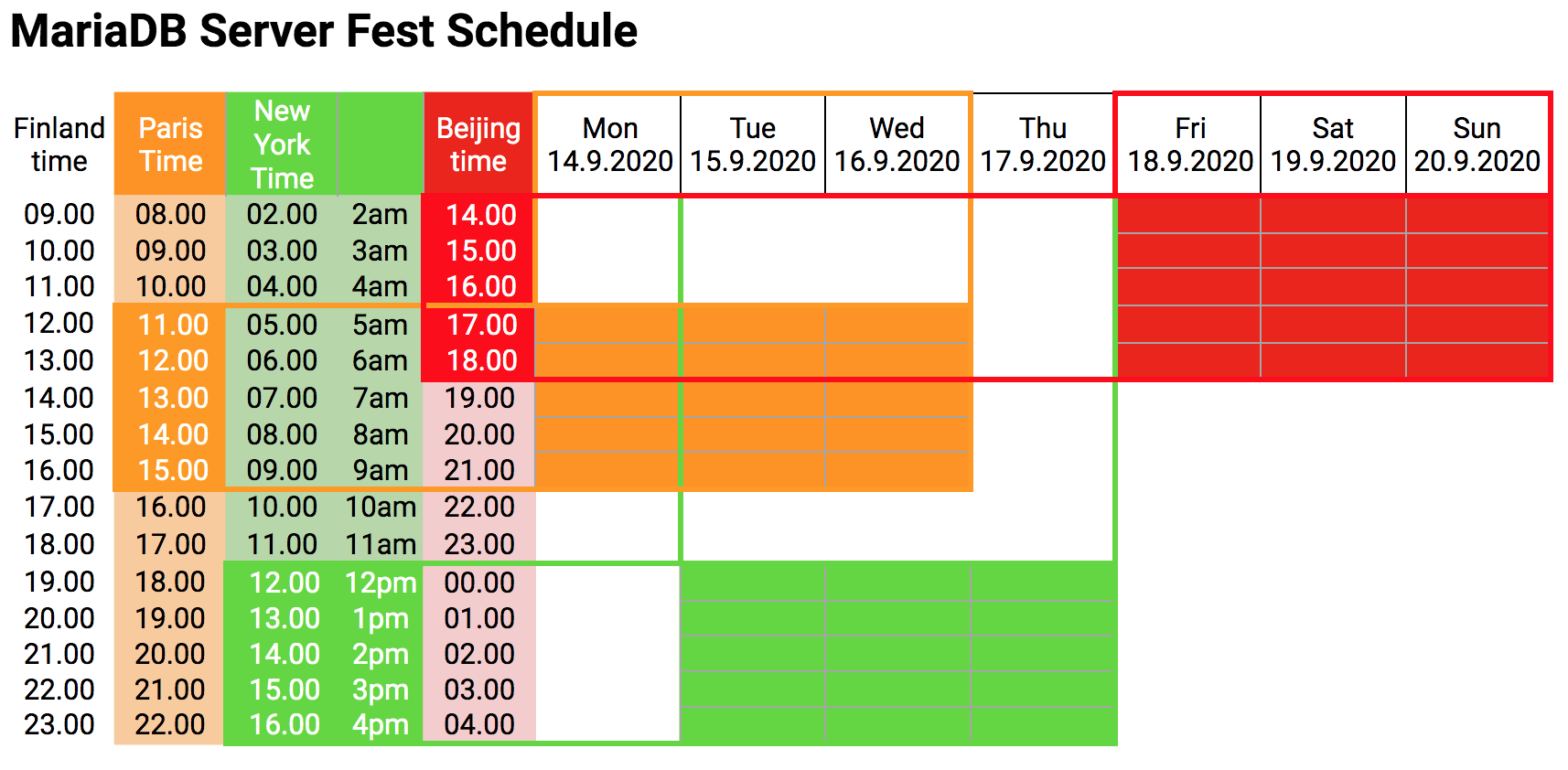 Thank you for the many submissions to our Call for Papers, and to your insightful replies to our Call for Attendees.
Based on the CfA replies and other feedback given to us, we could draw a few conclusions.
Attendees: Three-day event
First, we will spread out the event from a two-day event to a three-day event, for the attendees. We received several comments around preferences for shorter days, giving time for "normal" work. Rather three short days, than two long ones. That made perfect sense to us. We already changed a couple of convetions when moving from a physical event to a virtual; why not one more?
Presenters: One-week event
Second, we will spread out the event over the entire week, from a presenter perspective. Even if the presentation is pre-canned, presenters need sleep in order to give well-thought-out answers during Q&A sessions and in chat rooms. So the Paris time-zone conference (for EMEA) will be Monday until Wednesday, the New York time-zone conference (for the Americas) will be Tuesday until Thursday, and the Beijing time-zone conference (for APAC, with a special track for China) will be Friday until Sunday.
Presenters: CfP open until 15 July 2020
Third, we keep the CfP open two more weeks, to get submissions, particularly in areas classified as hot in the feedback we got. Especially hot areas are migration (from MySQL, from Oracle, from anything), and that's general use cases. But you can still submit for any topic.
How the schedule works
To clarify the schedule, we have made a graphic picture aimed both at attendees, and at presenters. When designing the schema, we had to to strike a balance between completeness and simplicity. Completeness would speak for including many time-zones, simplicity for as few as possible. So we ended up picking only three plus one time zones, leaving some attendees without times given in their own timezone. We obviously picked the three timezones for the namesake virtual conferences, Beijing, Paris and New York. As the command central for the event will be in Finland, we also added a fourth time zone – to reduce the risk of us making off-by-one errors ourselves. I hope Californian attendees are familiar enough with New York time, that they can translate the three hours in their head, that UK attendees can follow Paris time (this is a stretch, I know, and I apologise), and that Asians and Australians tune in to reading Beijing times.