MariaDB Foundation at Percona Live Europe 2018
From 5 to 7 November 2018 will be my first conference visit since taking up my new position. The sub-title of the conference in Frankfurt is "Open Source Database Conference", which is great and quite accurate, as there are a lot of different database systems represented. The name is not new though…. Georg Richter, Zak Greant and I started a conference by that name well over a decade ago.
The inaugural edition of what we then called OpenDBcon in 2005 saw, among others, Gregory Burd (BerkelyDB, Sleepycat), Josh Berkus, Gavin Sherry and Peter Eisentraut (PostgreSQL), Fred Toussi (HSQLDB), Dan Debrunner (Derby), D.Richard Hipp from SQLite, people from Firebird, many people from MySQL AB and the MySQL Community, and special guest newcomer Ingres which was about to get open sourced (Feb 2006). One of their speakers was able to give us a tour of the source code on his laptop (I recall that the directory and file structure very much showed its VAX/VMS heritage).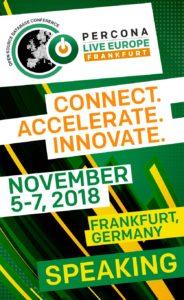 Back to 2018… we'll have three people from MariaDB Foundation attending and speaking:
Vicențiu Ciorbaru
Teodor Mircea Ionita
Arjen Lentz
There are more MariaDB related tutorials and sessions, best to look at the schedule as there's a lot in there. Also, if you're with a company that uses MariaDB, chances are you're also using other database technologies as well – these days it's most often a mix. This is why a conference covering more tech from your toolbox is a good thing. And from the DB tech developer side, it provides us with an opportunity to meet, and exchange ideas.
We've managed to secure an exhibitor booth as a community organisation, so you can visit the MariaDB Foundation at booth 3. My colleagues and I would love to meet and talk with you, and I expect to spend a fair amount of my time at the booth as a central meeting point.