MariaDB at FOSDEM 2021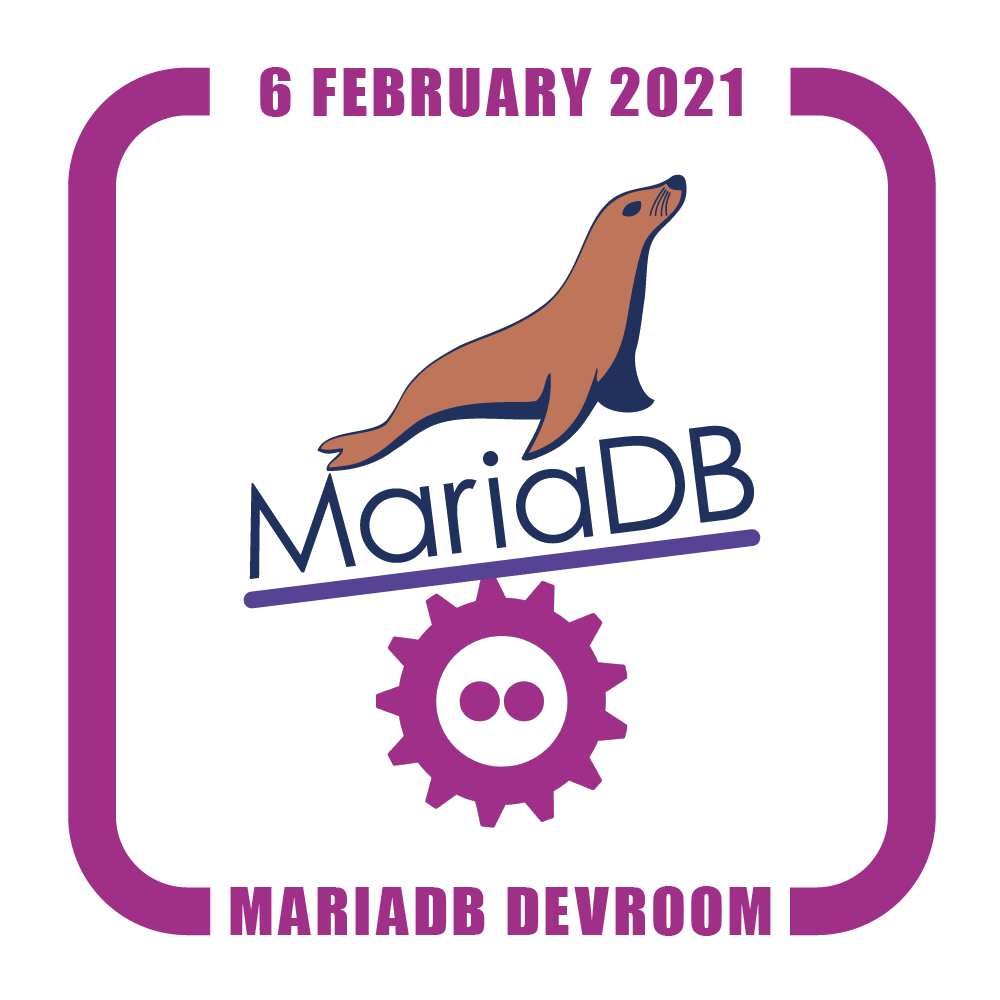 Today FOSDEM has started! Attend the live sessions happening in the MariaDB devroom (10-18 CET) – and chat about the sessions. Visit the MariaDB Stand (9:30-18) with its own chatroom. And take our poll. Note! We have video issues with the live Q&A – hope it will be fixed through FOSDEM later today. Arranging a meeting for 8000 developers is hard, and attending it can be bewildering – also online.

More notes: How To FOSDEM 2021.
Around this time each year, thousands of free and open source developers gather in Brussels for FOSDEM. The first FOSDEM, standing for Free and Open Source Developers European Meeting, was held back in 2001 (there was an OSDEM in 2000) and since then its grown to be rightly famous, an institution, a conference not organised by any vendor or focused on a particular developer community; instead a team of volunteers helps organise the event each year, and each devroom in turn has its own team.
Space is at a premium, the Université Libre de Bruxelles venue gets as crowded as a sports stadium during a final. MariaDB has attended in the past, and in previous years shared a presence as part of the MySQL, MariaDB and Friends devroom.
This year of course FOSDEM is going virtual, and with space no longer a constraint, MariaDB has the opportunity to enjoy its own dedicated devroom.
But not just a single devroom. There'll be MariaDB-related talks in a number of other devrooms as well, and you'll also be able to meet some of the MariaDB Foundation team at the MariaDB stand.
FOSDEM is so huge, that navigating can be tricky, so this post aims to be a one-stop location for finding everything MariaDB-related at FOSDEM 2021.
We look forward to seeing you!
Chat and Q&A guide (link to follow soon)
Legend
Sat 6 Feb 10.00 – 10.05 CET (UTC +1)
Ian Gilfillan
Welcome
Sat 6 Feb 10.05 – 10.30 CET (UTC +1)
Max Mether
MariaDB 10.6 and beyond
Sat 6 Feb 10.30 – 10.55 CET (UTC +1)
Valerii Kravchuk
Upgrading to a newer major version of MariaDB
What mysql_upgrade really does and what problems remain
Sat 6 Feb 10.55 – 11.20 CET (UTC +1)
Michael "Monty" Widenius
Migrating from other databases to MariaDB
Sat 6 Feb 11.20 – 11.45 CET (UTC +1)
Pickup Li
Migration from Oracle to MariaDB with no application change
Sat 6 Feb 11.45 – 12.10 CET (UTC +1)
Krunal Bauskar
Migrating MariaDB Cluster to ARM
Sat 6 Feb 12.10 – 12.35 CET (UTC +1)
Oli Sennhauser
Mariabackup – too rarely used
Sat 6 Feb 12.35 – 13.05 CET (UTC +1)
Eric Herman
Databases beyond the tutorials
Database usage for the real world for flexibility and scale
Sat 6 Feb 13.05 – 13.30 CET (UTC +1)
Michael "Monty" Widenius
Atomic DDL in MariaDB
Sat 6 Feb 13.30 – 13.55 CET (UTC +1)
Vicentiu Ciorbaru
MariaDB Roles
Overview and Migration
Sat 6 Feb 13.55 – 14.20 CET (UTC +1)
Oleksandr Byelkin
Set operations UNION, INTERSECT, and EXCEPT in MariaDB
How to use and combine them
Sat 6 Feb 14.20 – 14.45 CET (UTC +1)
Sergei Petrunia
JSON Support: news, non-news, and the bigger picture
Sat 6 Feb 14.45 – 15.15 CET (UTC +1)
Sveta Smirnova
MySQL Performance for DevOps
Sat 6 Feb 15.15 – 15.40 CET (UTC +1)
Federico Razzoli
Creating Vagrant development machines for MariaDB
HowTo and Best Practices
Sat 6 Feb 15.40 – 16.05 CET (UTC +1)
Alkin Tezuysal
How to shard MariaDB like a Pro?
Sat 6 Feb 16.10 – 16.35 CET (UTC +1)
Peter Zaitsev
MariaDB Observability
Sat 6 Feb 16.35 – 17.00 CET (UTC +1)
Robert Bindar
The MariaDB Jupyter Kernel
Sat 6 Feb 17.00 – 17.30 CET (UTC +1)
Otto Kekäläinen
MariaDB post-release quality assurance in Debian and Ubuntu
What Linux distros can do about software quality
Sat 6 Feb 17.30 – 18.00 CET (UTC +1)
Marko Mäkelä
Buffer pool performance improvements
How the LRU replacement and log checkpoints were made faster in MariaDB 10.5
MariaDB talks in other devrooms
Sun 7 Feb 10:30 – 11:00 CET (UTC +1)
Daniel Black (Cloud Computing)
MariaDB PaaS using systemd multi-instance / socket activation
Bare metal, but still modern
Sun 7 Feb 11:35 – 11:55 CET (UTC +1)
Vlad Bogolin (Continuous Integration and Continuous Deployment)
MariaDB Buildbot, the journey of a reinvention
Sun 7 Feb 12:05 – 12:30 CET (UTC +1)
Kaj Arnö (Community)
Ensuring user focus of open source development: Case MariaDB Server
Encouraging and conducting external evaluation of activities
Sun 7 Feb 13:05 – 13:20 CET (UTC +1)
Vlad Bogolin (Containers)
MariaDB Buildbot Container environments
Sun 7 Feb 14:30 – 14:50 CET (UTC +1)
Anna Widenius (Community)
Online Conferences and the "new normal".
Sun 7 Feb 15:30 – 16:00 CET (UTC +1)
Anel Husakovic (LibreOffice)
Using LibreOffice with MariaDB [and Docker]
MariaDB Stand
The MariaDB Stand will be open throughout FOSDEM. View short videos on what we do, or come say hi and meet someone from the MariaDB Foundation. We'll be happy to discuss anything MariaDB-related, or try answer your questions. Suggest a name for the MariaDB sea lion, or tell us what you think MariaDB should be focusing on.