Release Policy MiniFest Over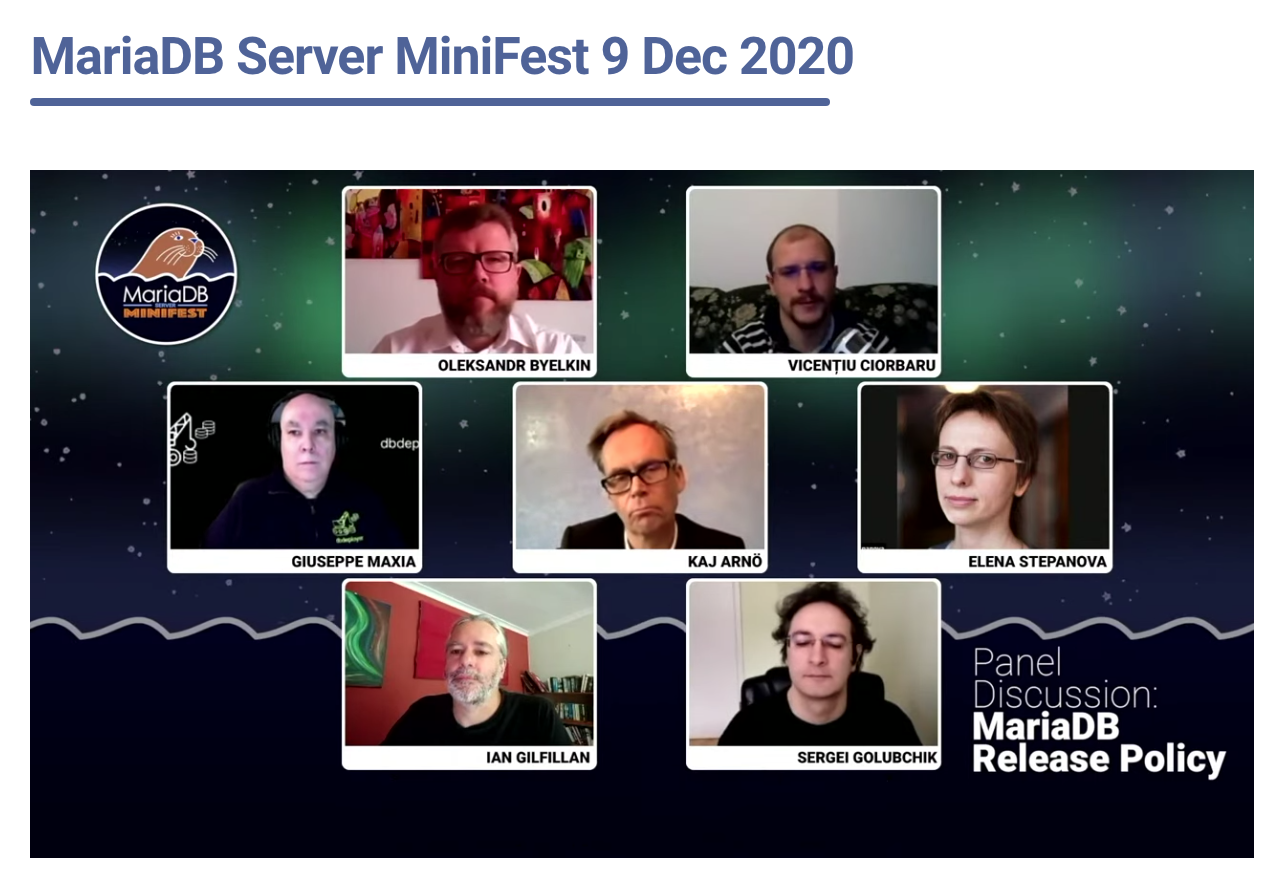 Done! Our first MariaDB Server MiniFest is over. A smaller version of our MariaDB Server Fest format, the first MiniFest was about the MariaDB Server Release Policy.
Where to find the recordings
Should you have missed the party, we have recorded the 3:18:45 hours of Best Bits for you, available directly on https://mariadb.org/minifest2020/. The sessions are also available individually, as linked below.
Presentations by MariaDB
We started off by three presentations by MariaDB:
On Building MariaDB, by Daniel Bartholomew (MariaDB Corporation), with a follow-up interview by Vicentiu Ciorbaru and Vlad Bogolin (both MariaDB Foundation)
On Merging MariaDB (exact title: Ensuring Build Quality in MariaDB) by Oleksandr "Sanja" Byelkin (MariaDB Corporation), with a follow-up interview by Vicentiu Ciorbaru
On Security by Sergei Golubchik (MariaDB Corporation and Foundation), with a follow-up interview by Ian Gilfillan (MariaDB Foundation)
The User View
We continued with three presentations by users:
From a Linux Distribution perspective, by Otto Kekäläinen of Debian, with a follow-up interview by Daniel Black (MariaDB Foundation)
From a Microsoft perspective, by Sunil Kamath of MSFT, as interviewed by Kaj Arnö (MariaDB Foundation)
The concluding Panel
For the concluding Panel on the MariaDB Release Policy, we had asked all speakers and interviewers to be present, which proved challenging – given timezones spanning from Canberra over Singapore across EMEA to the Americas.
We invited two Special Guest Stars, Giuseppe Maxia (DB Deployer) and Elena Stepanova (MariaDB Corporation Quality Assurance). The purpose of the panel was to gather input on what we can do better. We certainly got good input, and will take our time to digest it.
Hope you enjoy our MiniFest! Looking forward to your feedback.