Shanghai MariaDB Unconference Nov 2019
In our quest to promote development of MariaDB Server, what we have come to call Unconferences form a key part. These developer meetings have traditionally been organised twice a year, and 2019 is no exception. After the North American Unconference in New York in February, Asia Pacific was in turn with Shanghai in November. And, no, we have not forgotten Europe; expect an EMEA Unconference next year.

Hosts and environment
Microsoft were our hosts, at their fabulous campus in the peaceful outskirts of Shanghai. "Where are all the Chinese?" was a common foreigner reaction; streets were near-empty by Chinese standards, as the area was under construction.
Morning runs to the close-by Huangpu river were as calm as in the Bavarian countryside, only with fewer co-runners. Some of my European co-runners would be surprised to learn that the air was eminently breathable and the runs enjoyable enough to make them a near-daily thing.

Big shot presence
The Shanghai Unconference had a whopping five out of ten MariaDB Foundation Board members present. Qinglin Zhang of Tencent Cloud is a local, Fangxin Lou from Alibaba in Hangzhou also a near-local. Our Chairman Eric Herman flew in from Amsterdam, whereas Michael "Monty" Widenius and Sergei Golubchik of MariaDB Corporation flew in from Finland and Germany, respectively. With this many MariaDB Foundation people present, we grabbed the opportunity for a number of internal meetings and lots of informal face-to-face chats, a luxury usually not afforded by a virtual organisation like ours.
The core part of the Unconference were the technical presentations and ensuing discussions related to code contributions and extensions.

Topics of interest
Microsoft's special interest was around the InnoDB threadpool, the file system interface, MariaDB usage of persistent memory and page flushing IO. Marko Mäkelä of MariaDB Corporation was instrumental to these discussions, as he is the most senior active InnoDB developer around (given that InnoDB creator Heikki Tuuri hasn't developed for years).

Tencent in turn was into XA transactions and Spider, which saw quite deep discussions, given that MariaDB Corporation had sent Spider creator Kentoku Shiba.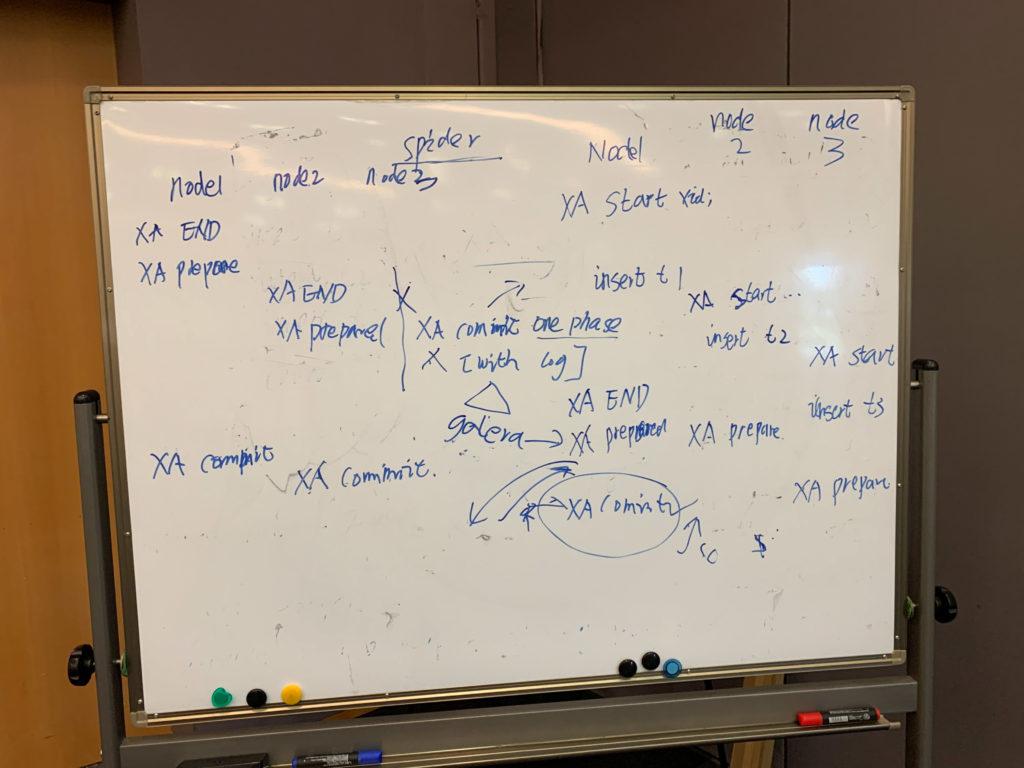 Alibaba discussed a dozen AliSQL patches, some on the topic of Read Committed. This caught the full attention of none other than Michael "Monty" Widenius.

Huawei was represented by a number of people, one of which a former MySQL time colleague, Alexey "Kaamos" Kopytov. Their interest centered around parallel queries and supporting MariaDB on ARM; they are looking into optimising MariaDB Server on Kunpeng, Huawei's Linux. Another Chinese company at the Unconference, Linaro, is also into ARM Linux development.

The techies from the above and other Chinese companies got to benefit from the presence of Marko, Kentoku and Monty as well as other core developers from MariaDB Corporation (Wlad Vaintroub, Oleksandr "Sanja" Byelkin) and MariaDB Foundation (Vicentiu Ciorbaru). Presumably, more than a few moments of enlightenment happened. However, as Wlad by mistake stepped on the cover of the power outlet to which Sergei's laptop was connected, there was a bright light, a sound, and a smell, as Sergei's power cord was cut in two. That was one small step for Wlad, one giant power outage for half of the auditorium.

Side notes
Side note 1: Speaking of Alexey Kopytov, his nick "Kaamos" is a Finnish word describing the darkness Finland experiences exactly this time of the year; our near 20°C was a clear benefit of Shanghai for those of us who had escaped the simultaneous "Slush" startup event in Finland.

Side note 2: Speaking of enlightenment, MariaDB Foundation's VP Alliances Prashant Joshi provided us with a yogic / meditative experience at the end of day 1.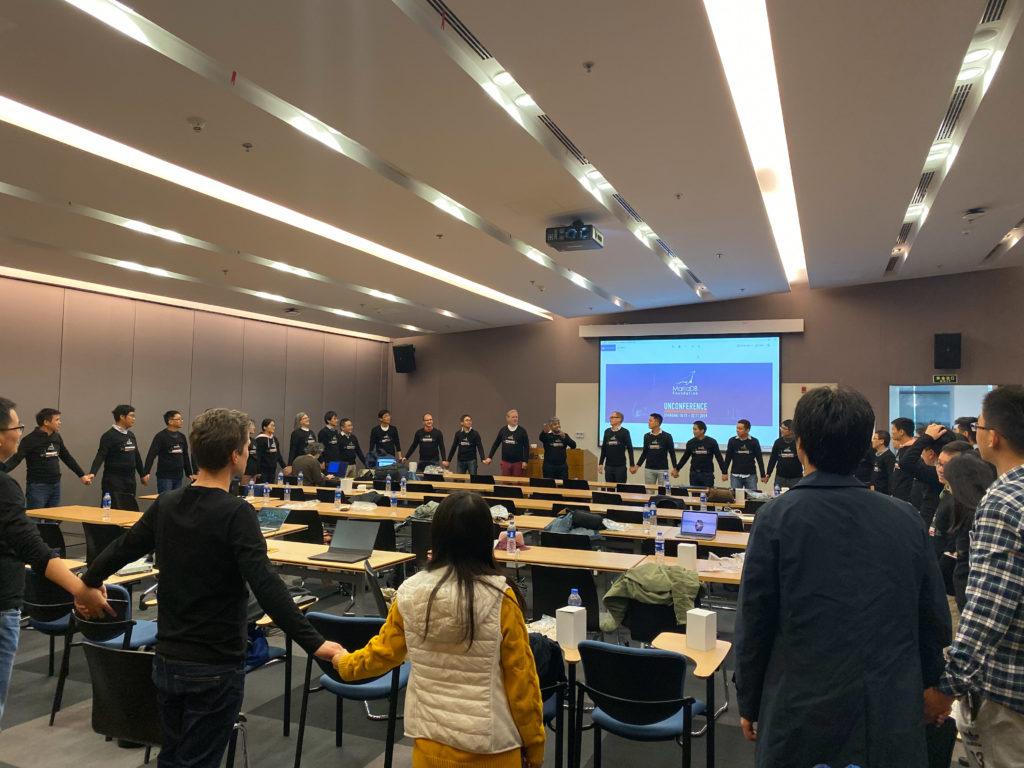 Side note 3: After the Unconference, those present still Friday still gave the foreign guests an opportunity to walk through the alleys of Shanghai.

Side note 4: Presentations from the event can be downloaded at https://mariadb.org/2019-mariadb-developers-unconference-shanghai-presentations/. My own doesn't have a link, as I did my usual thing of explaining our purpose and goals, based on the Vitruvian Sea Lion picture contained in most of our presentations.
Thank you Microsoft!
A huge thank you note goes out to Sudhakar Sannakkayala, Microsoft's representative on the MariaDB Foundation board, to Jun Su, who was great as Microsoft's Shanghai host, and to Qiyue Zhou, who organised all practicalities before, during and after the Unconference at MSFT Campus. It was a pleasure to work with all of you!