Server Fest Conclusions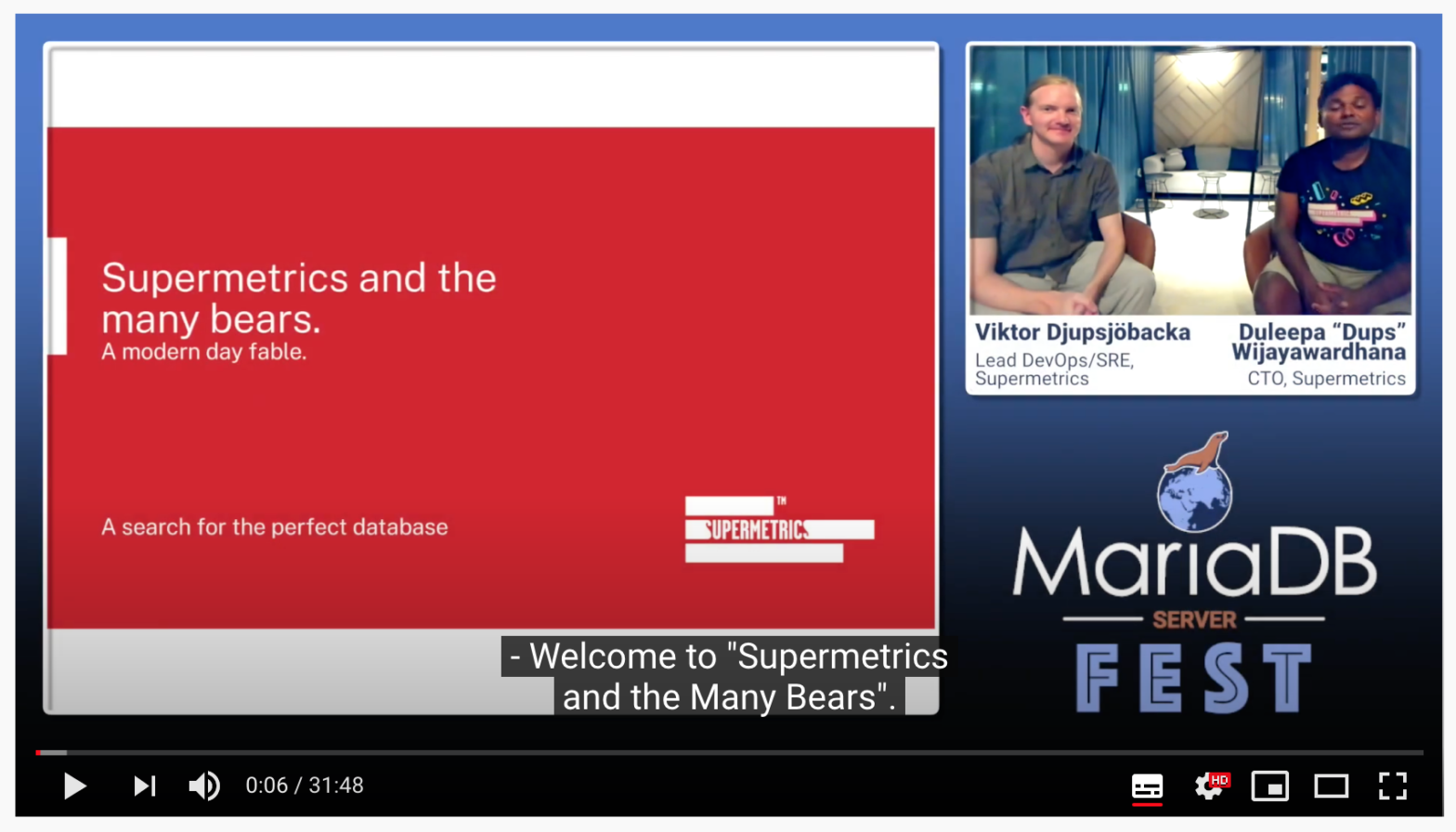 The MariaDB Server Fest 2020 is now over! Time for some spontaneous, initial reflections.
The MariaDB Server Fest
To recap, MariaDB Server Fest
was a virtual conference
spread out over three days in September 2020
taking place first in Paris, then in New York, and last in Singapore / Beijing (three days in each location)
The Fest was a first for MariaDB Foundation
The Server Fest was a first in many ways, for MariaDB Foundation:
The first time we addressed the users of MariaDB Server – not the developers of MariaDB Server
The first time we went virtual – so far, we have always met face to face
The first time we did a conference with Call for Papers and an approval process – earlier, we had what we called unconferences, with a very spontaneous agenda
A roaring success
The numbers speak for themselves:
over 10.000 unique video views on YouTube alone
over 2.000 simultaneous viewers on Bilibili.com
35 talks by 30 presenters
twelve live streams, each with six hours of talks
over 500 registered attendees (registration was not mandatory)
over 1000 chat messages during the conference
all talks now available as recordings on YouTube and Bilibili
We planned for known virtual advantages …
Beyond not transferring human diseases, virtual conferences provide some known advantages:
no time lost travelling
no jet lag
no flight costs nor hotel cost
smaller carbon footprint
a possibility to invite speakers who dislike travel
… but decided to go experimental on interactivity
Those advantages were not enough for us. We wanted to take it a step further. In particular, interactivity is the prime reason for conference attendees are willing to bear the time and monetary cost of physical travel. We asked ourselves: What can we do to improve interactivity?
The trigger: A distant keynote
It turned out that was not a good starting point for the reasoning. Yes, interactivity was the end goal. But what ignited the changes we made, was the experience of staring into a soulless camera when delivering a keynote. The audience was so abstract! The whole situation so artificial! No laughter, no applause, no booing nor rotten tomatoes, no interactive tension in the air. And for that, are we supposed to line up all our presenters, at a potentially awkward time of day for them and for the audience across the world?
The keystone: Recorded presentations
Having recorded presentations now seems like a no-brainer, and has by now been used by other conferences. When we decided to go with recordings, we did so on our own. A benefit of inventing the wheel ourselves what that we got the opportunity to invent quite a bit of the surrounding car, as well.
Three timezones & Q&A
If the presentation is recorded anyway, we might as well broadcast it several times! Hence, we divided the planet into three timezones, Paris for Europe, Middle East & Africa, New York for the Americas, and Beijing & Singapore for Asia. We broadcast the presentations at times convenient for each, using the city names as a symbol – in particular, for the time zone.
So why both Beijing and Singapore? True, they are in the same time zone, but approaching a Chinese audience is best done using Bilibili.com and WeChat, whereas YouTube and Zulip were our chosen tools for Paris, New York and Singapore.
Cloned presenters interact while talking
As the presentations are prerecorded, the presenters are freed up to interact with the audience throughout the presentation. This is why we set up Zulip chat topics, one per presentation. We got over a thousand chats, still available for everyone to read (and even to come with follow-up comments).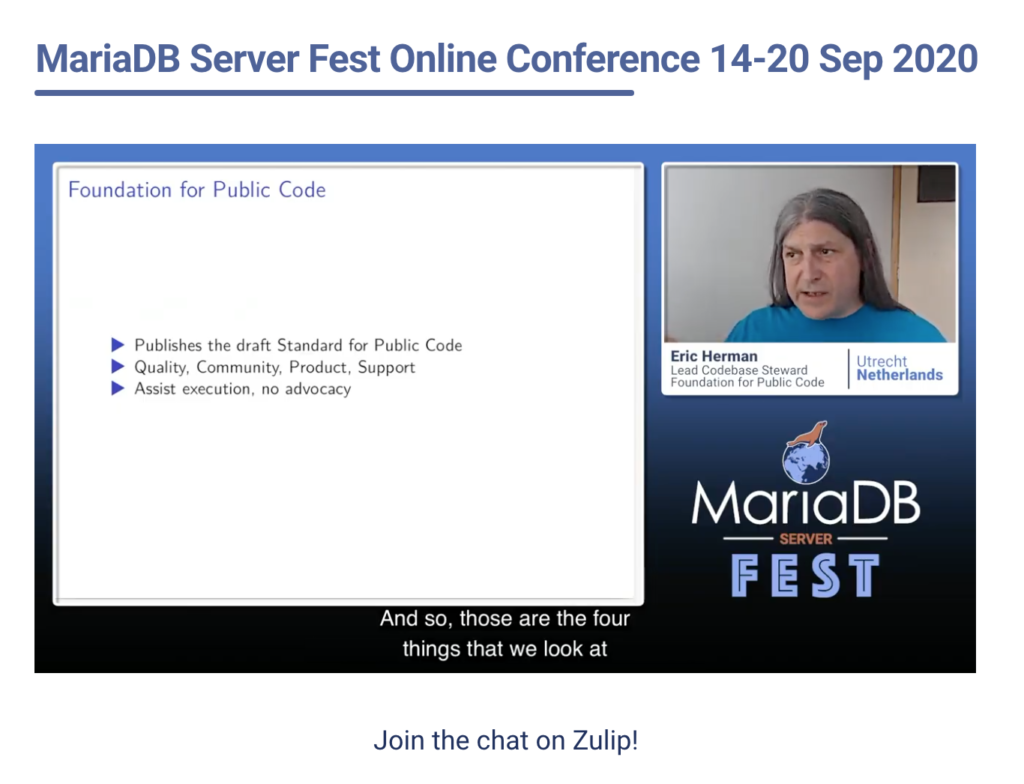 Subtitles ease understanding
As we had the recordings, and as YouTube guesses subtitles automatically, we decided to clean up the suggested subtitles. We got many positive comments about the subtitles. Evidently, they simplify understanding – our speakers and our audiences come with many different native languages and lots of different accents, native and non-native. Written text helps.
Now: The recordings remain available
We may be making a virtue out of necessity, but it's still important to note that the recordings of the talks remain available. We have chopped up our live stream into individual talks, on YouTube and Bilibili. These talks are accessible from the same URLs where the talk was first presented, with its abstract.
For instance, the keynote by Supermetrics about how they chased "the perfect database" is available on mariadb.org/fest2020/perfectdb/. That page also has the link to the live interactive Q&A session after the talk. And the PDF, and the Zulip chat. Well, bear with us – not all 35 talks have every sub-aspect of the talk updated yet, but we are working on it.
Thank you for the conference!
We would like to thank the presenters for their great work in planning and recording their presentations, and in being present for the live Q&A session as well as the Zulip chats.
We want to thank the audience for turning up in such large numbers. Thousands in virtual Paris, thousands in virtual New York, and thousands in virtual Singapore and Beijing. We are honoured and happy.
I want to thank the MariaDB Foundation team for putting in all the hard work in making the conference happen. First and foremost, our highly professional video editing "team" got many positive remarks. That's a one-man team, Alexander Morozov in St. Petersburg, Russia. Thank you to our overall Fest coordinator and cat herder, Anna Widenius, in Grankulla, Finland. To our schedule and subtitle master, Ian Gilfillan, in Cape Town, South Africa. To our web coordinator and generic fire soldier, Vicentiu Ciorbaru, who travelled to Grankulla, but is based in Bucharest, Romania, with his webmaster Andreia Hendea. To the rest of the MariaDB Foundation team, Daniel Black in Canberra Australia, Faustin Lammler in Venice Italy, Anel Husakovic close to Sarajevo in Bosnia, Vlad Bogolin in Bucharest, and Robert Bindar, somewhere in the southern Romanian countryside.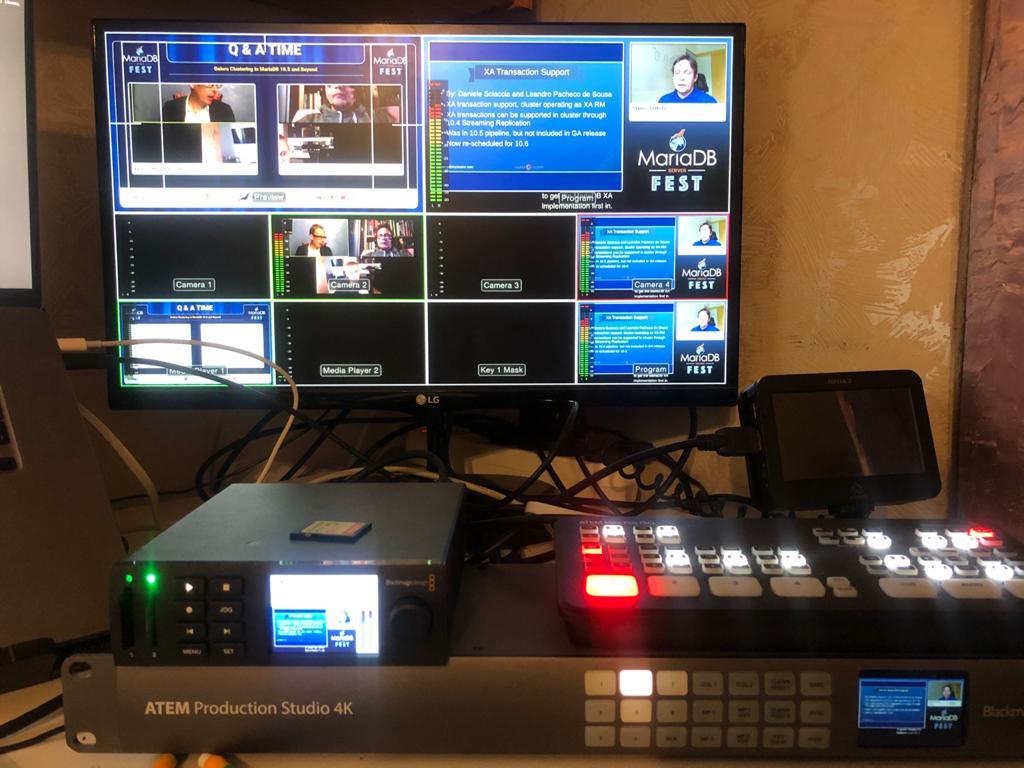 All MariaDB Foundation activities are made possible by our Platinum, Gold and Silver sponsors, to which we are indebted also for this conference. Our Platinum sponsors are: MariaDB Corporation, Booking.com, Microsoft, Alibaba, Tencent, and Service Now. Our Gold sponsors are Visma, IBM, and DBS Bank. Our Silver sponsor is Automattic. Thank you!
Thank you and Ni hao to our China team
Putting on a conference like this is not easy anywhere. Making it available for the many MariaDB users in China is even more demanding. We would never have made it without the advice we got from Alibaba and Tencent, during the times we could still travel to conferences in China, and without the contacts we got during those trips.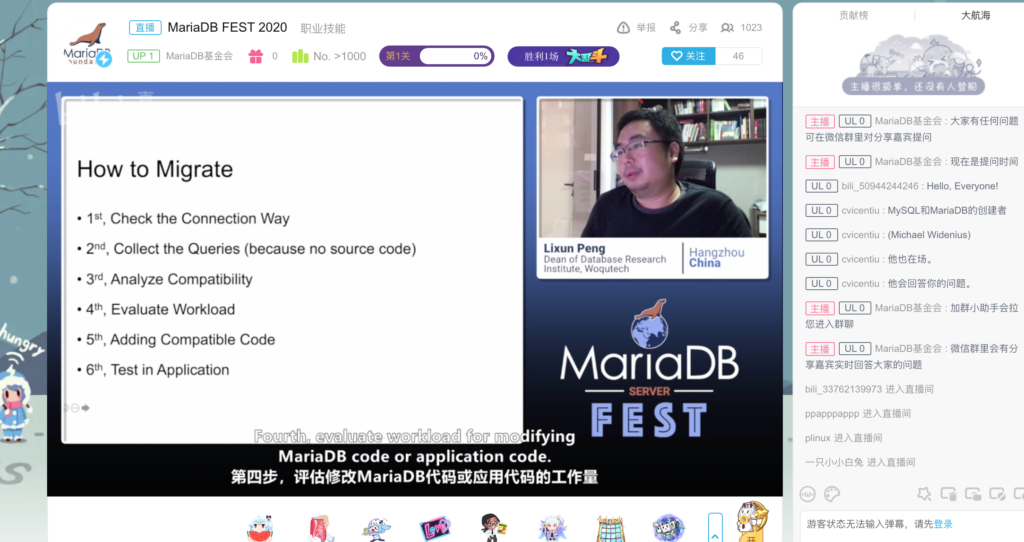 Those contacts now created a channel for us on Bilibili, where the videos were livestreamed. They had Chinese subtitles, something which is immensely important. We got help to create a WeChat group "MariaDB Fest 2020", and to create the buzz that got us well over two thousand concurrent viewers.
Within the China team, I would like to especially mention
会议志愿者 (our Conference Volunteers)
姚玥 (Yue YAO)、李春 (Pickup Chun LI)、魏兴华 (Xinghua WEI)、李建辉 (Jianhui LI) @沃趣科技 (Woqu Tech)
彭立勋 (Lixun PENG) @MariaDB Foundation & 沃趣科技 (Woqu Tech)
张雯(Wen Zhang) @哔哩哔哩 (Bilibili)
字幕翻译 (Subtitle Translators)
吕挫挫 (Cuo-Cuo LV)、周权彪 (Quan-Biao ZHOU) @西安交通大学 (Xi'an Jiaotong University)
史宝虹 (Bao-Hong SHI) @西安外国语大学 (Xi'an International Studies University)
校稿志愿者 (Proofs Volunteers)
陈浩 (Hao CHEN)、张彦东 (Yandong ZHANG)、岳雷 (Lei YUE)、李文航 (Wen-Hang LI) @沃趣科技 (Woqu Tech)
倪周强 (Zhou-Qiang NI) @橙联中国 (Orange Connex)
李冠华(Guan-Hua LI)
刘文科 (Wen-Ke LIU)
And let me not forget Anna Widenius, who has been coordinating with the China team.
Conclusion: We are happy
We are happy with how this turned out. We hope you are happy, too.
We got lots of interactions with you. But we want more. We established a special topic for this on Zulip, »Conference Feedback to MariaDB Foundation». Keep your feedback coming on this topic!
How can we increase your benefit from this conference?
How can we help you use MariaDB more and better?
What are your suggestions for our next MariaDB Server Fest, timing, format, content?
What did you learn? What caught you by surprise? Personally, I was surprised but happy to note that the Connect engine was mentioned in three different talks.
Thank you, and see you next time!