2017 in the MariaDB Foundation
2017 was an excellent year for MariaDB.
The Foundation was joined by several new sponsoring members; IBM, Alibaba Cloud, Tencent Cloud and Microsoft. This was the first year the Foundation did not run out of funds at the end of the year and we were able to fully compensate our staff. The members have also helped us reach wider ecosystems and helped the Foundation in its mission of supporting continuity and open collaboration in the MariaDB ecosystem.
In 2017, MariaDB Server was more active than ever, with 8 releases of the 10.2 series, including the first stable release in May, 10 releases of the 10.1 series, 5 releases of the 10.0 series and 4 releases of the 5.5 series. There were also multiple releases of MariaDB Galera Cluster, and the C, Java and ODBC connectors as well as many other MariaDB tools.
In addition, the current development series, 10.3, saw 4 releases, including the first beta in December.
The announcements for each release can be read on the Mariadb.org blog archives with further details in the Knowledge Base.
In MariaDB 10.3, the main focus is on compatibility, enabling users of other DBMSs to easily migrate to MariaDB. Some of the main new features include:
Instant ADD COLUMN for InnoDB
Oracle compatibility parser
SEQUENCES
INTERSECT AND EXCEPT
ROW data type for stored routine variables
TYPE OF and ROW TYPE OF
Cursors with parameters
WAIT and NOWAIT
Extended DELETE and UPDATE
Compressed Columns
Hidden columns
Major updates to the SPIDER storage engine
See a more complete list of features in the MariaDB Knowledge Base.
The MariaDB Foundation for the first time hosted two Developers Unconferences in 2017. The first was in New York City in April, and the second in Shenzhen, China in November, the first time the event had been held in Asia.
Increased adoption
The Maria ecosystem continues to see increased adoption. Debian 9 "Stretch" selected MariaDB as its default, MariaDB was the 3rd fastest growing DBMS according to the DB-Engines rankings for 2017, and the mariadb.org website continues to grow, with 2.48 million page views, up from 1.88 in 2016, and from 1.09 in 2015.
In total, our Github repository saw there were 2694 commits made by 107 contributors in 2017, up from 2396 commits made by 72 contributors in 2016. The 2016 commit statistics were extracted from the 10.2 branch history in the MariaDB server repository, and do not include commits made on other branches nor commits made in other repositories (connectors, upstream storage engines and plugins, downstream packaging repositories etc).
Our bug and issue tracker, JIRA, saw a marked increase in activity, with 3116 MDEV (MariaDB Server) issues opened in 2017, up from 2338 in 2016, and 2396 issues closed in 2017, up from 1413.
At the end of 2017 the staff included:
Otto Kekäläinen, CEO
Sergey Vojtovich, core developer
Vicențiu Ciorbaru, core developer
Lixun Peng, core developer (sponsored by Alibaba Cloud)
Qinglin Zhang, core developer (sponsored by Tencent Cloud)
Ian Gilfillan, documentation writer and webmaster
Andrea Spåre-Strachan, assistant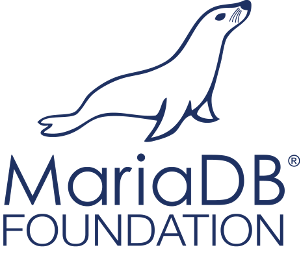 The Board of Directors at the end of 2017 consisted of:
Chair Eric Herman, Principal Developer at Booking.com
Michael "Monty" Widenius, MariaDB Foundation founder and CTO of MariaDB Corporation
Sergei Golubchik, Chief Architect at MariaDB Corporation, representing MariaDB developers
Espen Håkonsen, CIO of Visma and Managing Director of Visma IT & Communications
Michael Howard, CEO at MariaDB Corporation
Two new members have also been elected to the board since: Qinglin Zhang from Tencent Cloud and Tobias Ternstrom from Microsoft. MariaDB Foundation CEO Otto Kekäläinen serves as the secretary of the board.
If you want to help the MariaDB Foundation in its mission to guarantee continuity and open collaboration, please support us with individual or corporate sponsorship.
Please see the full list of sponsors as well as the list of individual donors.